And here I go again…
E-series Fresh New Look
Fresh from a user review of the Black E90, I jumped on the E66 like a hungry cat. Of course, thanks to WOM World for my demo units, otherwise I probably wont be able to enjoy doing this... hehehe...
I really believe that if the fascia of the Black E90 is like the E66, then it would have sold 2x or 3x more. This is E-series new standard or elegance. The E66 is like Gucci shoes that go together with your Lanvin suite. Or that Dunhill cufflink that goes with that Armani shirt. I could go on, but of course this does not mean this is only for those trim and proper businessmen in their expensive suits! Far from it! The E66 can be for anybody who fancied something elegant, but is not willing to pay for the price of a Scirocco 8800 phone or worse yet a Vertu.
Taking the super elegant Grey Steel E66-1 for a spin… and I think this is going to be a deliriously dangerous spin as heads might get chopped off due to the "Inverted Camera Syndrome" of E66 which my demo unit is suffering at the moment… and here are the unboxing photos. My demo unit is MIF (Made In Finland) and is the Grey Steel E66-1 RM-313 that sports a quad band GSM 850/900/1800/1900 MHz and WCDMA 900/2100. Here are some techno-porn unboxing pixs.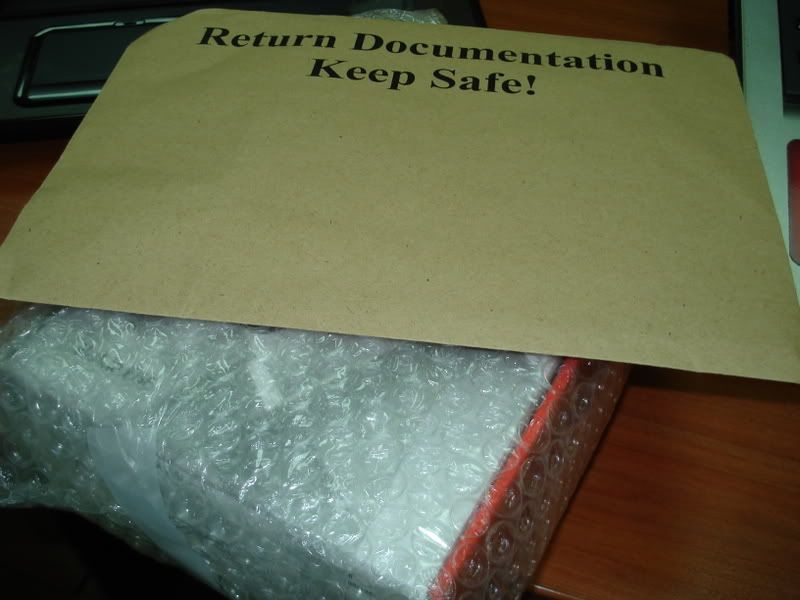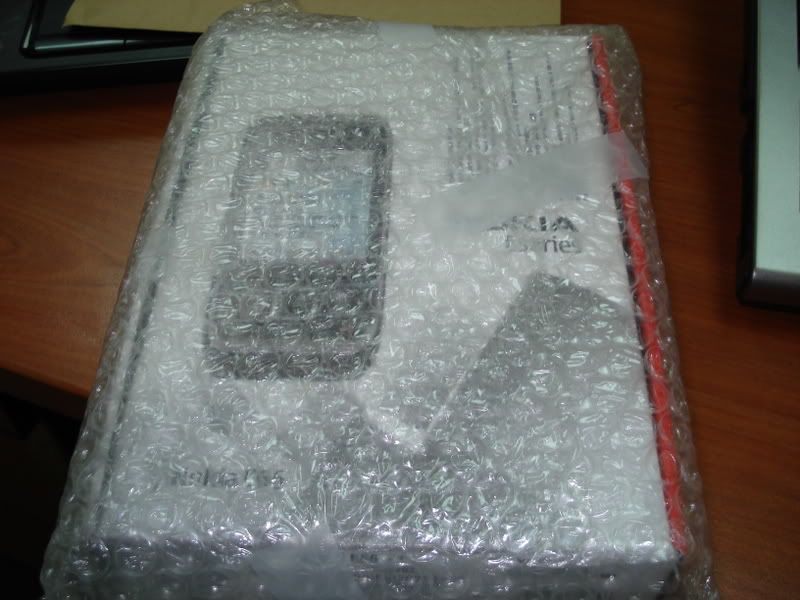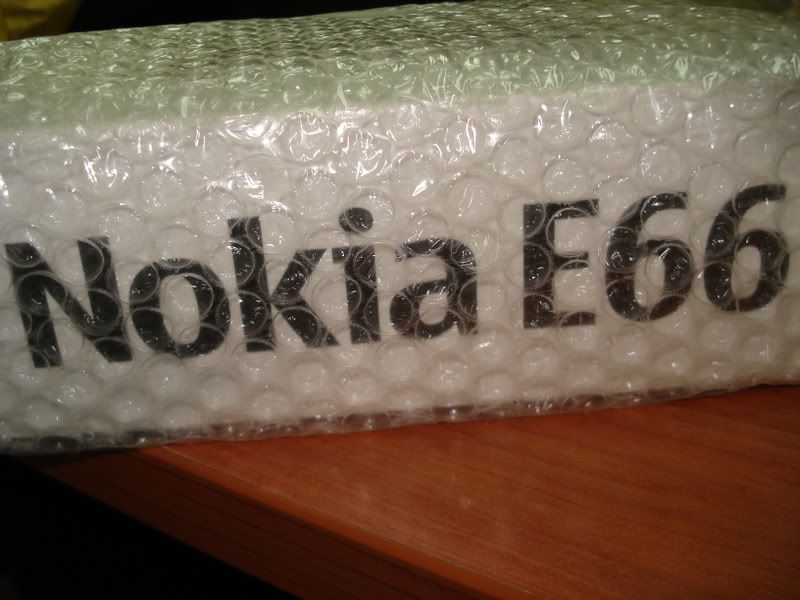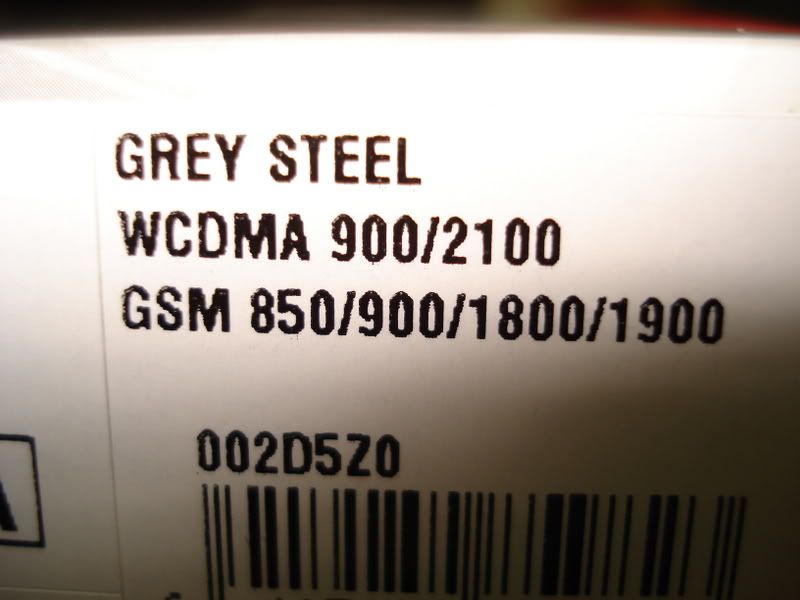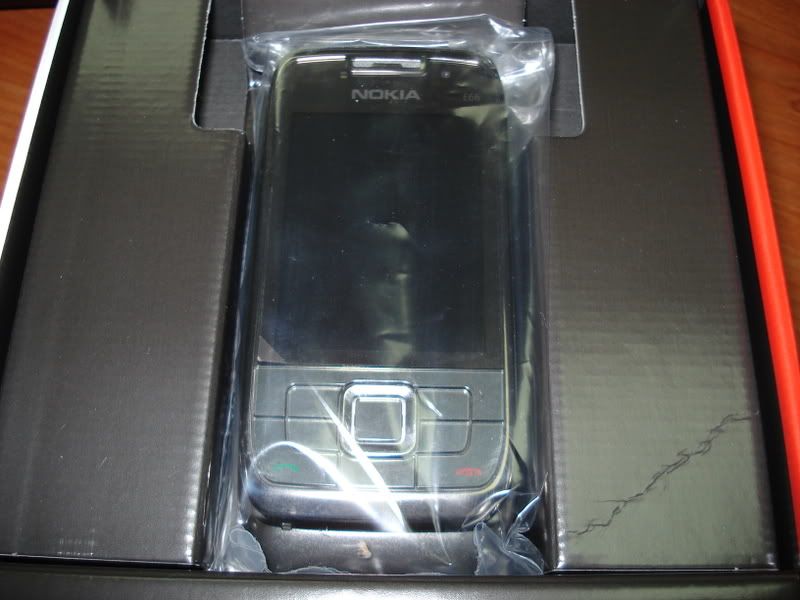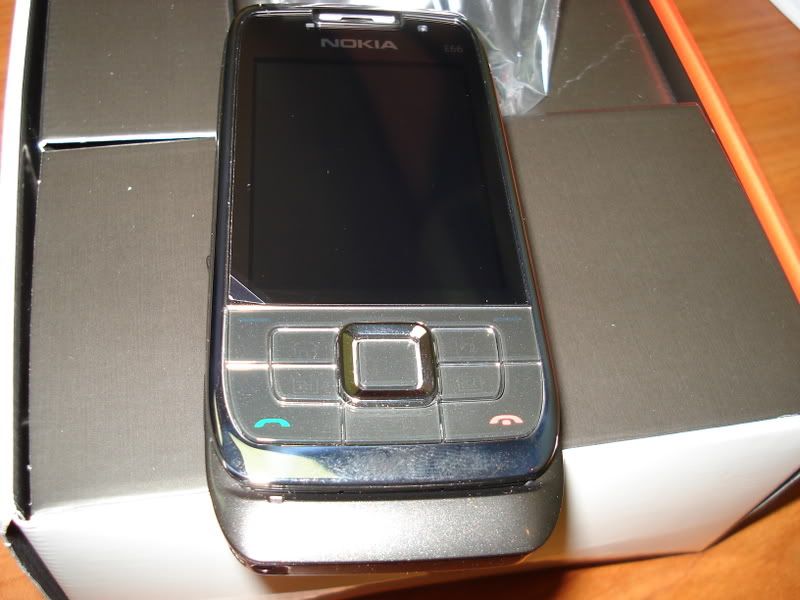 What's on the Box
Well, the usual stuff are the: stereo hands-free headset, a travel charger, USB connector and in this case more- a lanyard and the nice slip-in phone case.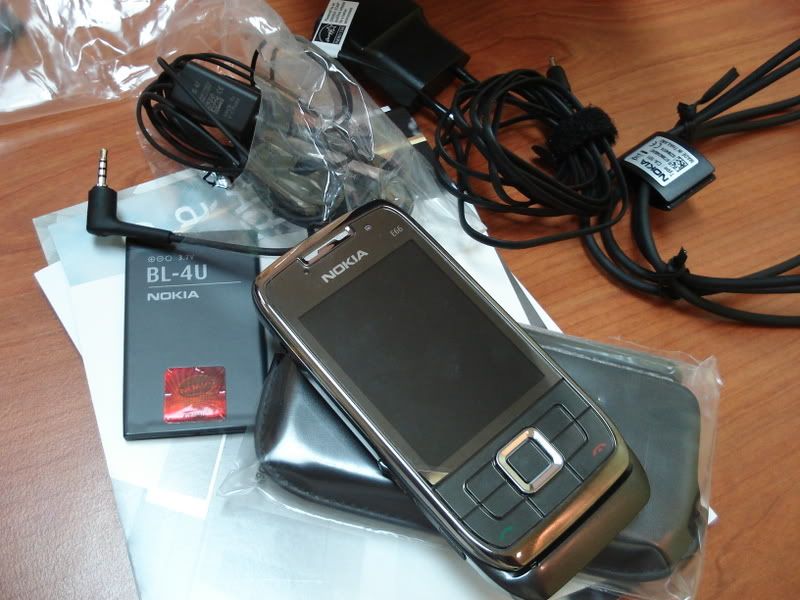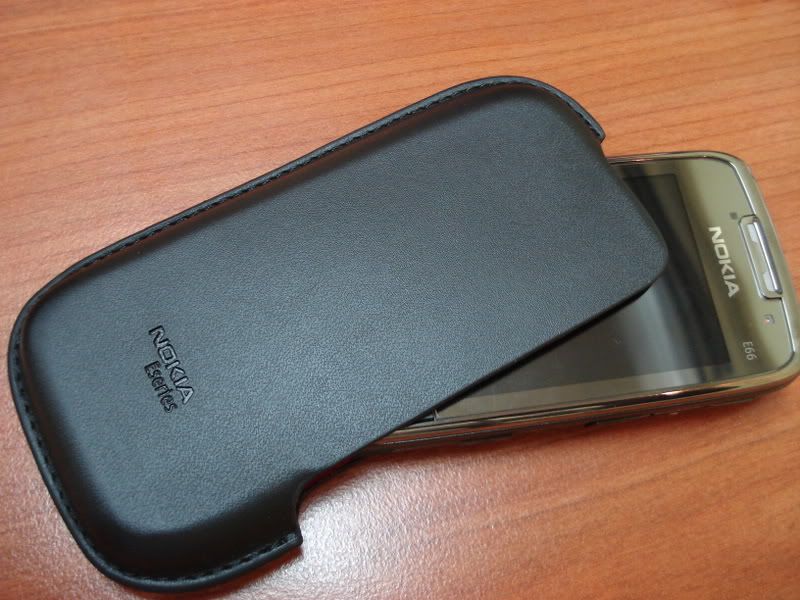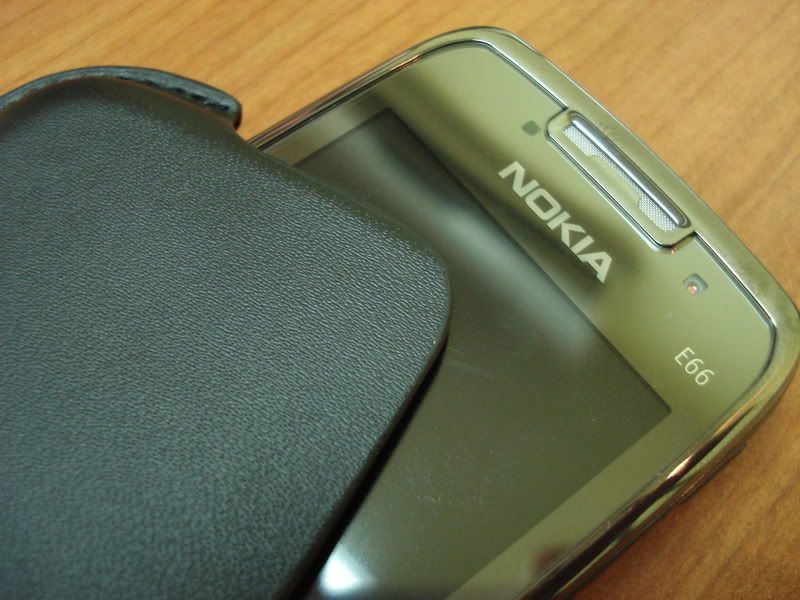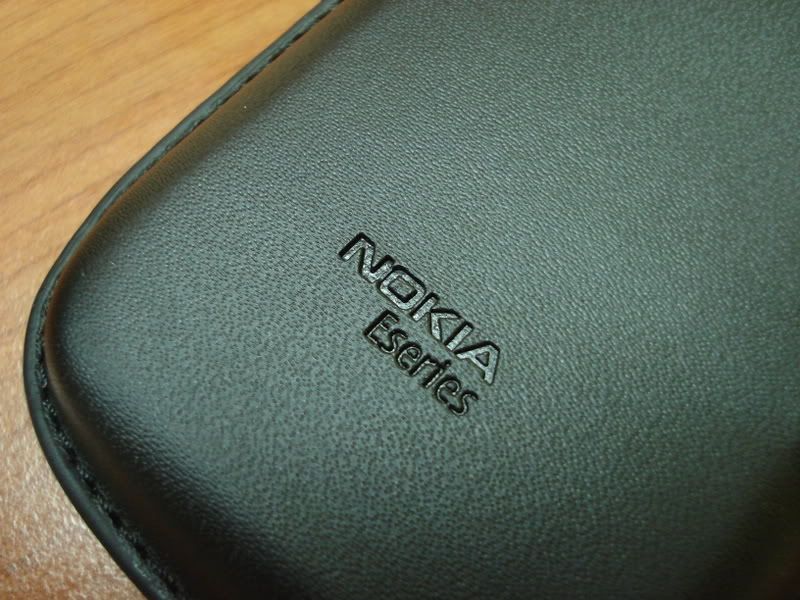 Inverted Camera Syndrome

Inverted Camera Syndrome, what?!!! Apparently, many E66 units with software version 100.07.78 are suffering from this Inverted Camera Syndrome, and as the name implies, once you open the Camera application to shoot photos, the viewfinder display shows an inverted image and of course it shoots inverted image! And on top of that, the whole Camera application is slow as snail to open! It takes about 10 sec or for the camera to come up! Well, maybe I am a bit exaggerating or more like exasperated!

But, all is not lost, cause there are reports of some units that now sporting software with V. 102.xx.xx and in addition to that if you put your E66 (with V. 100.xx.xx) into offline or airplane mode, the Camera application works well. Hence, this is a software issue or heavens forbid a true factory defect issue! And to think, that I got an E66 Made in Finland, bah!

Just before publishing this, this syndrome got really worse, because now, even in offline mode the camera is still inverted, partly because of my undoing. I was playing with it, put my demo E66 to offline mode, and opening the camera, naturally the camera came in ok. Took some shots and then I decided, what if I put it back to the "General Profile" while the camera is still active. I thought to my self: "Will the camera remain in the correct position or will it revert back to the inverted position?". So, I decided to try it, because who knows? This might solved the whole problem, right? How wrong I was… now the camera is completely upside down all the time. I have actually delayed publishing the review in the hope that an update from NSU is nigh, but alas! It seems like it is as far as the horizon…


Nice and Spice and Other Goodies

If we can put aside the disappointing camera, which many of you are probably appalled by now, then the gloom starts to fade and everything looks like clear skies. And let us not forget that there is probably just a bad batch that came out with this Inverted Camera, none the less that is simply inexcusable and if you have an E66 that is suffering from this, you might well return it ASAP for a replacement.

As already mentioned the physical appearance is that of elegant business phone. And I mean really hot and elegant! The outer key as seen on the picture below which are the Shortcut Keys are completely blank when on standby, what symbols you see is just the Green Call Button which is as usual on the left, and on the right is the Hang-up or End Red Button.





The rest is hidden (the symbols of the keys), until the backlight reveals what is in there. This gives a very nice minimalist effect that adds to the elegance of the E66. Quite ingenious if I may, and kudos to the one who designed this!

The actual keypad that is hidden if the slider is close is somewhat similar to the keys of the E51 as you can see from the photo below. They are flat, but not ridiculous Razr flat. They are responsive, but not the same as those old rubbery, super responsive keypads that we used to have when many cell phones were still sporting those stubby antenna.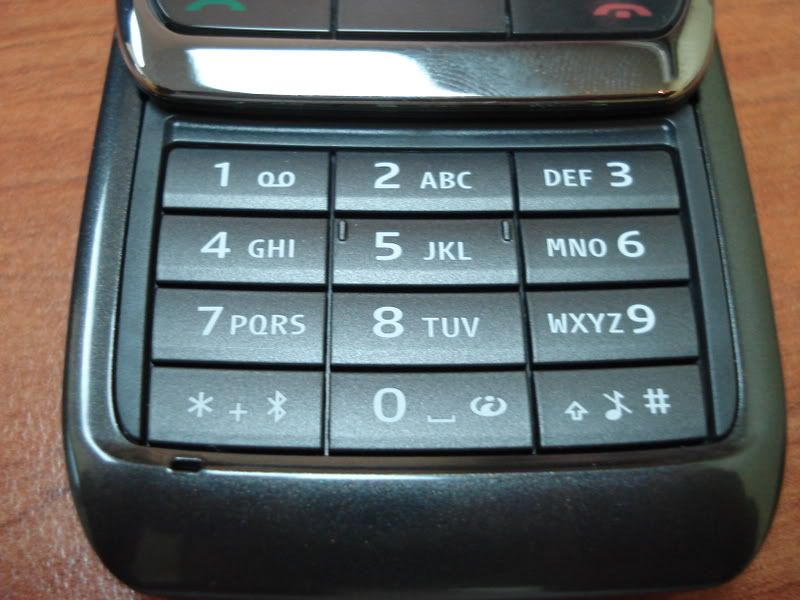 Another nice touch is the battery back-cover release latch or tabs shown below. These are small tab on both sides that looks like stereo speakers, I mean I wished they were stereo speakers, but are not and they simply serves as latches that opens up the stainless steel battery back cover upon pressing on it. It's like popping up the hood of your car or bonnet to some other English speaking chaps!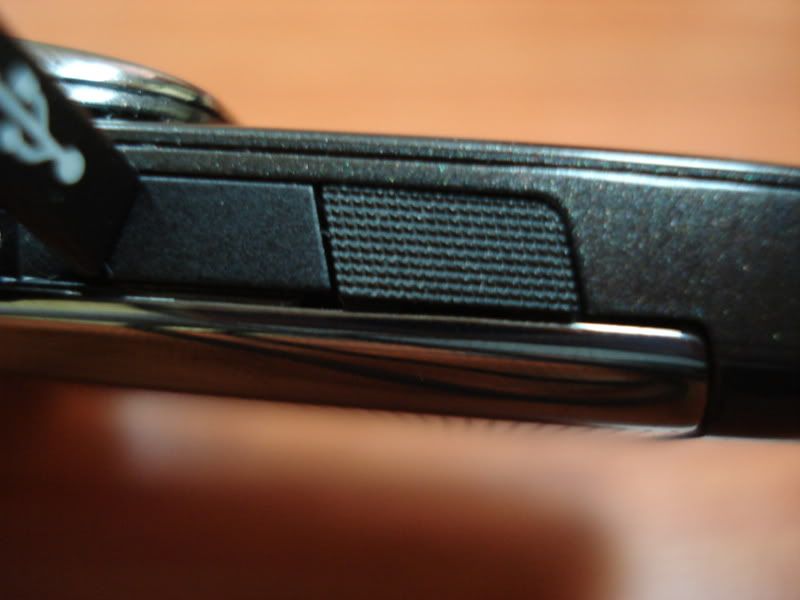 And here is the stainless battery back cover with my palm as extra.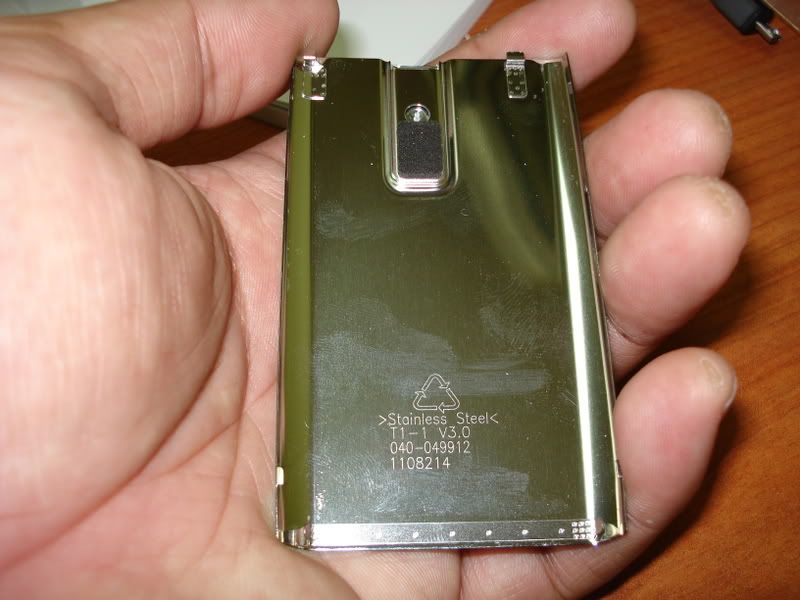 Once the device is in stanby, This nice huge digital clock will show once press the d-pad, again a very neat one...





This is another nice stanby screen





Other things to mention is that you need to remove the battery back cover to access the memory card, and beside it is the SIM Card Holder. You need to slide in the SIM card to affix it. The SIM card is a bit difficult to remove though, but that could just be my clumsy fingers.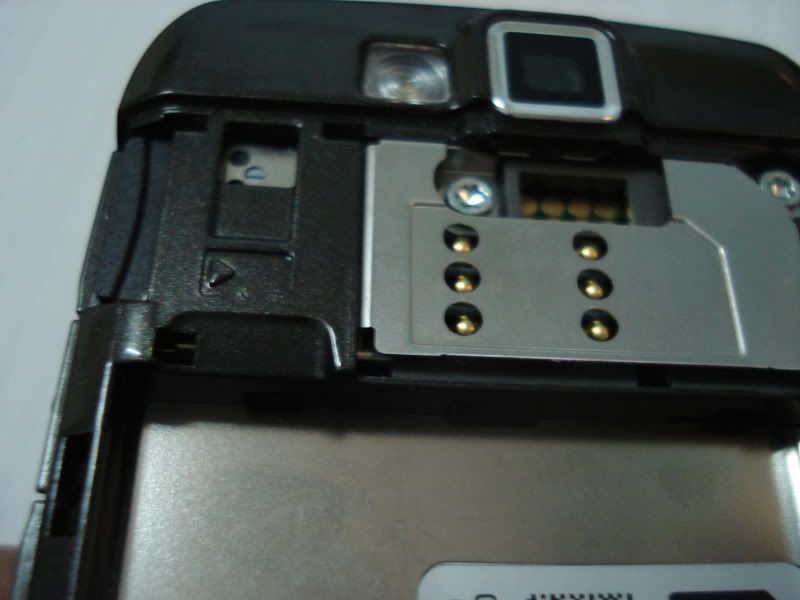 Shortcut Keys Gallore

This is the Bluetooth Shortcut key. This Star [*] Key should become a default shortcut key for all Nokia with Bluetooth. I had been advocating this and have another thread somewhere here.





You can see the shortcut keys when lighted and it shows the Mail, Home or Menu Key (gone is the Yin-Yang symbol), Calendar and Contacts. I think the keys are very clear which one is which.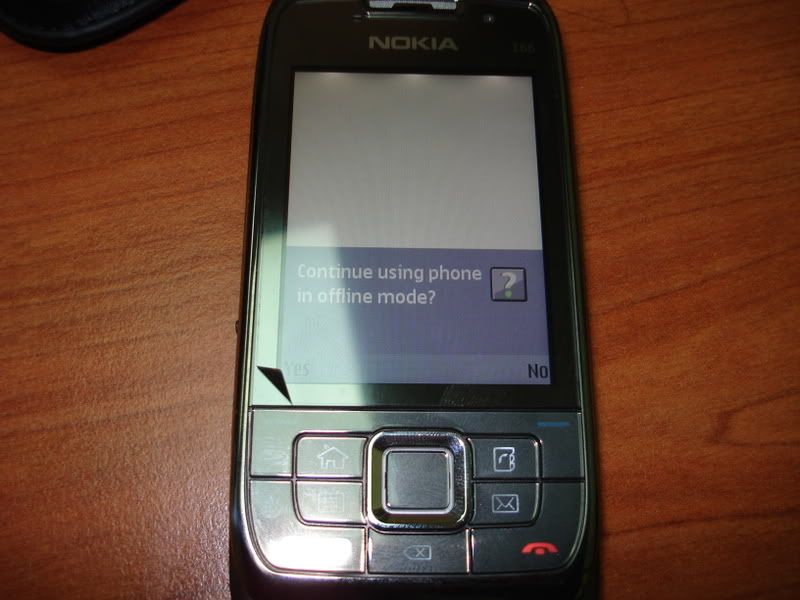 More Goodies in Details

And here is a rundown of the normal stuffs you will find with this baby that is probably does not require further ado:
Quad-band EGSM support – same good RF from Nokia
3G with HSDPA 3.6Mbps – do note that there are 3 variants of the E66
The Shortcut keys for Mail, Home or Menu, Calendar, Contacts
Symbian 9.2 OS, S60 UI with FP1 with some FP2 like goodies
369 MHz ARM 11 CPU and 128 MB of SDRAM
Wi-Fi , BT 2.0+EDR with A2DP, IR
Built-in GPS receiver, A-GPS
3.2 megapixel auto focus camera with LED flash
Accelerometer sensor for screen auto-rotation
110 MB of user memory, microSD expansion, comes with a 2GB card
Standard 2.5mm audio jack
Stainless steel casing and mirror like finish
microUSB v2.0
FM radio
Good battery life (E71 is better though)
Fantastic retail package
Nokia Maps with 3 months free turn-by-turn navigation license

Click, click!!! I like the sound of that…

The slider is so much better than the N95. There is no wobble and it is really very solid. In general slider and flip phones will break more easily compared to candy bar phones, simply because anything with moving parts will break easily. However, there is something about sliding or folding action that gives you that certain satisfaction when you hear that click in opening to accept a call or ending a call. It's akin to watching TV and you have your favorite beverage in your hand, and your feet are up on a foot-stool, or that satisfaction that you get when you just completed your lap around the corner, or you just made that jump shot over the 3-point line.

Yup! And that satisfaction level is so much better when you feel those sliding movement that just so reassuring that there is no wobble on it. Click! Click! Ah! I like the sound of that! And I could do this all day!


Top 5 Reasons why choose E66 over E71

I know most of the E-series fans are debating over these 2, and I will add fuel to the debate:
E66 feels more of a phone rather than a freak qwerty as-thin-as-a-wafer-sand-which phone.
E66 keypads are huge, compared to those micro-keys of E71.
E66 has very little learning curve- no need to learn E71-qwerty style.
E66 has a slightly bigger screen compared to E71.
E66 is more elegant than E71.

I could not come up with 10 that is why it is only 5, if you have anything to add to the list above, just PM me, will ya!


-- Thanks for reading--